We used to talk about stay at home moms and the hardships associated with them. Today, let's shift the topic to stay at home dads. Strange as it may sound, but this term is becoming more and more popular these days. One thing you should know is that their job is just as hard as a business dad. Therefore, we have provided you with a list of gifts for stay at home dad to show your love to our devoted fathers.
Meet Our Stay At Home Dads
Apparently, our society still suggests the stereotype of a mother as a childcarer at home, while fathers are to climb the career ladder and become the breadwinner. As a consequence, it puts stay at home dads under a lot of pressure due to those preconceived ideas.
Of course, there are more than one type of dad in the world. Dads who like to drink beer, dads who run their own company, dads who catch thieves, and dads who stay at home.
Like our beloved mothers, a stay at home dad can acquire considerable experience related to childcare and household appliances. They are willing to make sacrifices for the whole family which is never as easy as a piece of cake. They work part-time, have kids picked up and played with throughout the day.
Hence, to be a stay at home parent, our dad is responsible for a whole host of stuff. Some may wish to return to their full-time job, but their family cannot afford the amount of money spent on babysitting services.
Each stay at home dad faces their own happiness, struggles, and biases. No matter which category your dad belongs to, he always deserves our respect instead of being held in contempt under any circumstances.
13 Best Ideas of Gifts For Stay At Home Dads
You have beat your brains out but still cannot find ideal stay at home dad gifts for an upcoming special occasion? No need to worry, here are the most recommended options.
1. Swiss Army Pocket Knife
Most dads like an everyday carry stuff, and a Swiss army pocket knife like the ones produced by Victorinox is worth your attention. Its utility and potential are so suitable for men's purposes that your stay at home dad can be on cloud nine. Of course, you must remind him to keep it away from the hands of little kids.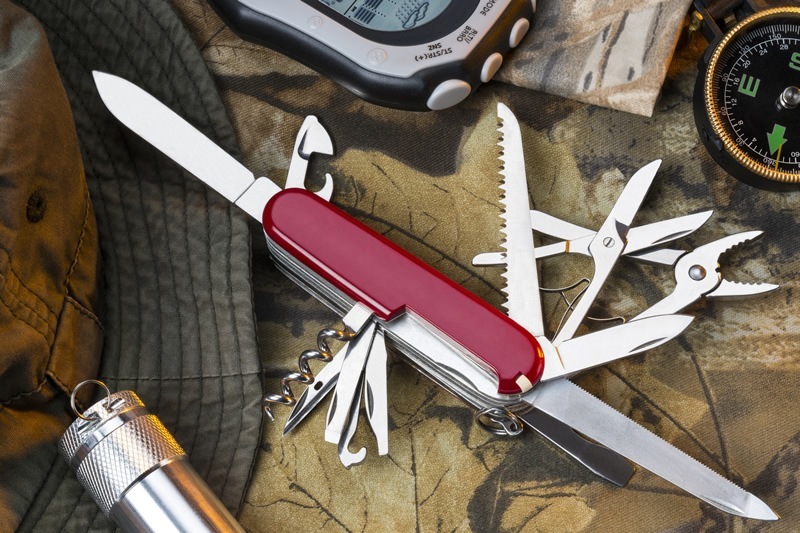 According to Wikipedia, a Swiss army pocket knife always consists of a main spearpoint blade paired with other types of blades and tools, such as screwdrivers, can opener,… Inside the knife handle is where these tools are stowed altogether, designed with a pivot point mechanism.
2. Cargo Pants
This type of pants may not draw your favor, but it does to your dad. As known as cargo trousers, they are sometimes called combat trousers because of their tracing back to military purpose.
Their distinctive features include the loose cut form and cargo pockets which is the main reason for their name. Thanks to these features, they are useful for outdoor activities and convenient for carrying more items during a trip. The pockets are big enough for small toys or even a bottle of water to fit in.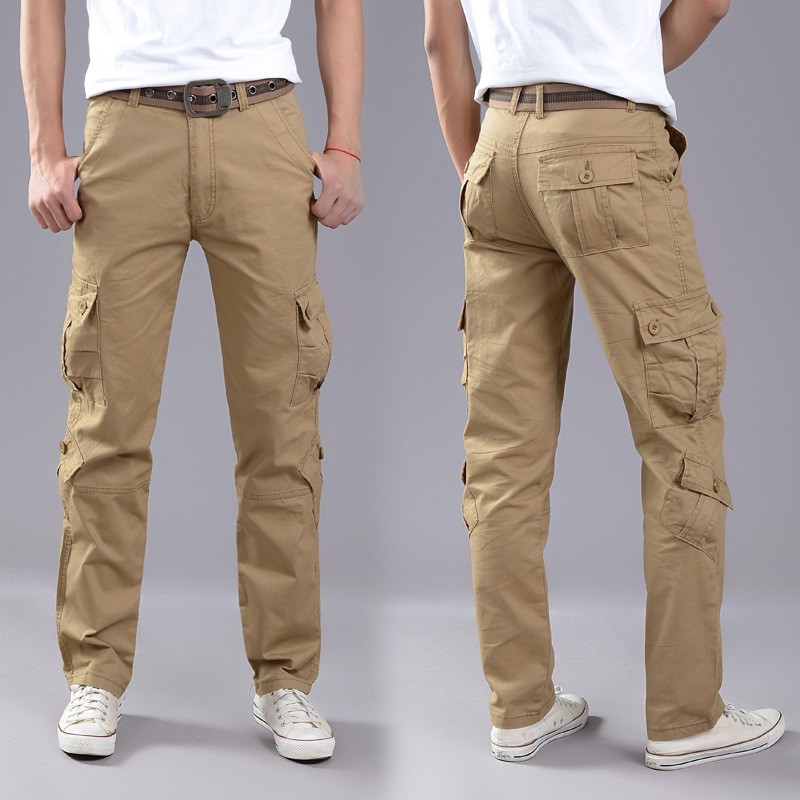 3. Custom Shirts
What's better than a shirt customized with creative graphics that cater to our own taste? These days, people are reaping a lot of benefits from the print-on-demand industry's rapid development. This allows us to use a diversity of ideas to personalize apparel designs. No additional fees are charged, only production and shipping cost is counted.
In case you are looking for some funny gifts for dads, give tropical-themed shirts a shot. Typically, a funny customized Hawaiian shirt can do great on most occasions, ranging from semi-formal events to exciting parties by the ocean. For a dad who loves simplicity and utility, this is no doubt one of the best presents he would like to receive.
4. Wrist Watch
This is not only an ideal choice of stay at home dad gifts but also one of the most classic items that will never go out of style. Don't go for elaborate details and decorative patterned watches. Instead, prioritize the utility and durability, such as an analog and water-resistant watch.
Also, a watch wouldn't appear to be attractive to kids like a toy, which helps your dad avoid some related problems. Nowadays, a whole host of watch models are available for you to choose in just a click of a button, guaranteeing both high quality and responsible price.
If you want to join hands in spicing up your parents' love a little bit, take your mom to the watch store with you. It is worth ranking among the best valentines gifts for dads, isn't it?
5. Shaving Kit
When it comes to shaving, don't think that razors are the only thing that matters. Some dads use a classic razor, some prefer electric grooming devices, some will add more delicate accessories like beard oil.
However, nothing can be more satisfying than a dad scraping his beard clean in just one shave. A new set of blades is enough to help your stay at home father achieve his dream, but why not opting for more? That's where shaving kits come in to steal the spotlight.
Usually, a shaving kit should include a razor, blades, shaving cream, and oil to promote a healthy and ideal environment for both beard and skin. The type of razor depends on the shaving kit price range, of which a cartridge razor with disposable blades are among the most common.
Otherwise, an electric razor would be the best for dads who like innovation and efficiency. There are also straight razors which are mostly meant for the professional barbers or passionate shavers.
6. Board Games
How about some funny Christmas gifts for dads to play when he has a few moments of leisure? Monopoly and Chess are among the most common for a family get-together. The good thing about board games is that you'll never have enough of them. Whenever you feel bored with one, just browse the Internet and bring home another creative challenge.
7. AI Speaker
Sometimes, your stay at home dad just wants some "leave me alone" time to relax and refresh his mind. You may think that parents don't like new technology, but trust us, you'll be amazed by what an AI speaker can do.
Being not just a music player, AI speakers nowadays are integrated with artificial intelligence capable of incredible things. They are smart enough to communicate and improvise dialogue on their own, even pick up a quarrel with each other. Sometimes, they can think of a humorous story when being asked.
Google and Amazon are the leading brands in the AI speaker market. Their digital platforms allow them to incorporate top-notch features that can now supersede other competitors like Microsoft and Facebook. For many people, the syncing function of AI speakers supporting smart device remote control is their favorite.
8. An iPad or Kindle
Here comes the era of Industry 4.0, so why not opt for another high-tech gift to impress our stay at home dads?
Usually, dads binge-watch TV in their free time, which eventually will become boring. Hence, an iPad or Kindle will be like a breath of fresh air to them.
The functions of a Kindle are easy for everyone to learn and use. It only serves the purpose of reading, so simple that even a child can figure out what to do.
However, an iPad is not as easy as a pie. New technology is not a familiar term to our boomer parents, so make sure you tweak a little bit before handing the new iPad to your dad.
In case you don't know exactly what to do, pay attention to the apps and settings. Remove unnecessary and redundant ones, download new apps that cater to their taste and hobbies. A virtual book library of video streaming platforms should be adequate.
9. Coffee Maker
A dad staying at home doesn't mean they have less work to do than other people. Waking up early, doing housework, working remotely part-time, picking up children from school,… are just a tiny part of stay at home dad's responsibilities.
Therefore, a coffee maker will not only help your dad save more time in the morning but also bring him comfort and convenience. Every cup of coffee can be served after just a click of a button.
10. Robot Vacuum Cleaner
Another gadget to make perfect gifts for stay at home dad. Cleaning the house will probably become tiresome for parents, especially when the kids keep messing up the beautiful carpet up with toys and stains. Spending hours picking up stuff and vacuuming the floor would be the last thing you want to do.
Therefore, vacuum cleaners are an ideal solution to tackle this problem. With the help of a sensor system, they can handle every nook and cranny of your house and do the job. They can adjust the direction and suction power automatically and cleverly. Also, its battery can last for about 100 minutes of running constantly.
11. Chelsea Boots
Men love shoes and styles, so does your stay at home dads. Of all shoes on the market, a pair of Chelsea boots will always make a lasting impression. Their sleek and smooth aesthetics give out an elegant vibe, perfectly suitable for a diversity of events if we manage to adjust a little bit.
12. Smart Garden Pot
If your dad is a plant lover, don't miss out on a smart garden pot. It consists of an automatic plant grow stimulating system (timing LED light set on a fixed schedule of activation), self-watering function (the water container is big enough to last up to 2 weeks), and healthy soil packages that contain essential nutrients to help plants grow ideally for at least 2-3 months.
13. A Party with Friends & Family
Save the best for the last, right? Sometimes, the best gifts for stay at home dad may not be high-end products, but an occasion that he enjoys to the fullest with his loved ones.
It will be nice to invite our dad and all his close friends to a barbecue party in your backyard. Give him a break from the daily routine of a stay at home parent, let him recharge his batteries and feel the love after making such sacrifices for his family.
Have some more special and unique ideas of gifts for stay at home dad to share? Don't hesitate to leave us a comment below. We're sure that some kids across the globe will be grateful for your valuable suggestions.
---
If you're looking for amazing gifts for your S.O., don't you miss out on our latest post of things to do on Valentine's Day.